Miz Mooz
SIMONS SHOES' FAVORITES FROM: MIZ MOOZ
About Miz Mooz Boots, Shoes and Sandals
From the beginning, Miz Mooz has been committed to the principle that fashion and comfort can happily coexist, and we refuse to sacrifice form for function. With this sensibility it's easy to spot a Miz Mooz shoe, just look for the vintage styling, hand finished leather, and unique and unexpected detailing.
What we LOVE about Miz Mooz
Miz Mooz was started in a New York City basement in 2001, and they are still proud to call NYC home. After a few seasons as an exclusive brand for a small chain of NYC stores, Miz Mooz found themselves fielding calls from independent retailers eager to stock Miz Mooz in their own boutiques.
The Miz Mooz team is a bright, happy and quirky bunch that are dedicated to bringing you chic styles, charming silhouettes and all-day comfort to everyone that wears their shoes. Dress up any of your outfits with the fun, vibrant style of Miz Mooz shoes!
 
Miz Mooz shoes are a reflection of the people that wear them - eclectic, edgy, playful, quirky, but most of all, FUN! To this end, each shoe is finished by hand, and the resulting variations in color and texture ensure that every pair is as unique and interesting as the woman who wears it.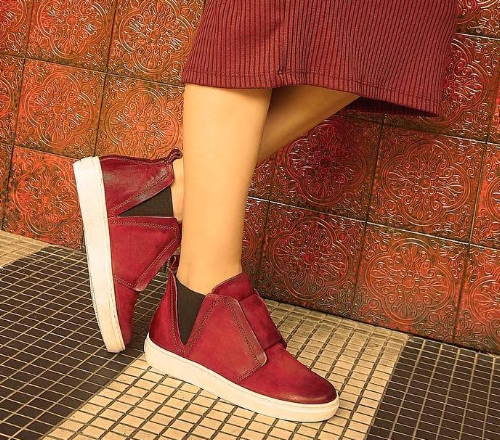 What our customers are say about MIZ MOOZ shoes.
"These Miz Mooz shoes are comfortable to wear straight from the box and leave no sore toes or blistered heels. I ordered size 41 for my US 10 size feet and the size is perfect. The leather is top notch and the metal accents give the boots a richer appearance. These boots are so cool, my only regret is that I didn't purchase a back up pair because I absolutely love them."
"Miz Mooz boots run true to size, the leather is soft and scrumptious and the craftsmanship is off the charts. They're also comfortable right from the box, no break in time needed. I get so many people stopping me about my cool boots."

"I was looking for something a bit more rugged looking and these Miz Mooz boots were perfect. A little edgy but at the same time stylish and chic. I'm a US size 8 and ordered size 39, the faux fur was perfect and the leather was really soft and structured."